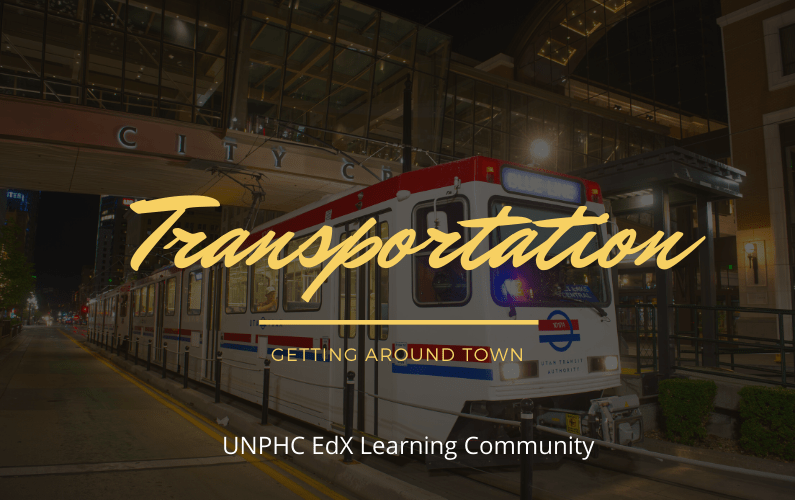 GETTING AROUND
June is Transportation Month. The weather is warming up, COVID-19 is going down, so let's get out of the house! From bikes to scooters, rideshares to buses, and even trains, we've gathered info for your momentum.

Commuter trains, buses, and light rail to get you where you need to go:
FrontRunner trains provide access from Ogden to Provo. Weekday service starts at 4:30 am and stops just after midnight.
TRAX, the light rail system, provides access to Downtown SLC from across the valley on three color-coded lines.
Red Line provides service from the University of Utah, through downtown, to 6400 South and west to the Daybreak community.
Blue Line begins downtown at the transfer station and runs south to Draper.
Green Line begins at the Salt Lake International Airport, runs through downtown Salt Lake and to West Valley City.
Buses connect service at TRAX and FrontRunner stations to get you almost anywhere in the Greater Salt Lake Area and bus routes run across the Salt Lake Valley, Ogden, Utah County, Brigham City, Park City, and up Big and Little Cottonwood Canyons
FAREPAY is a reduced fare for those with income restrictions, disabilities, and seniors. Sign up and hop on!
For more information:  rideuta.com or call 801-743-3822 (801-RIDE-UTA)  toll-free 888-743-3822.

Rideshares are convenient, affordable for short trips, and easy to access. lyft.com and uber.com are available almost everywhere in Utah.
We get it…You're old school and simply want to call a cab.
Yellow cab at: yellowcabutah.com or call 801-521-2100
CityCab at https://www.citycabut.com/ or call 801-363-5500

Bikeshares and Scooter Life.
GREENbike, Utah's nonprofit bike share, connects you with your job, transit stops, and entertainment destinations. For as little as 5$ a year, you can help yourself to unlimited 1-hour rides.
https://www.greenbikeutah.org/
And…scooters!  This link will tell you everything you need to know to access a zippy little ride.
https://www.visitsaltlake.com/blog/stories/post/electric-scooters/
The UNPHC EdX video will offer some insight on all of these options, including how-to's. On the third Thursday of June, look for it on our YouTube Channel and Facebook page.
Happy Travels!
-UNPHC